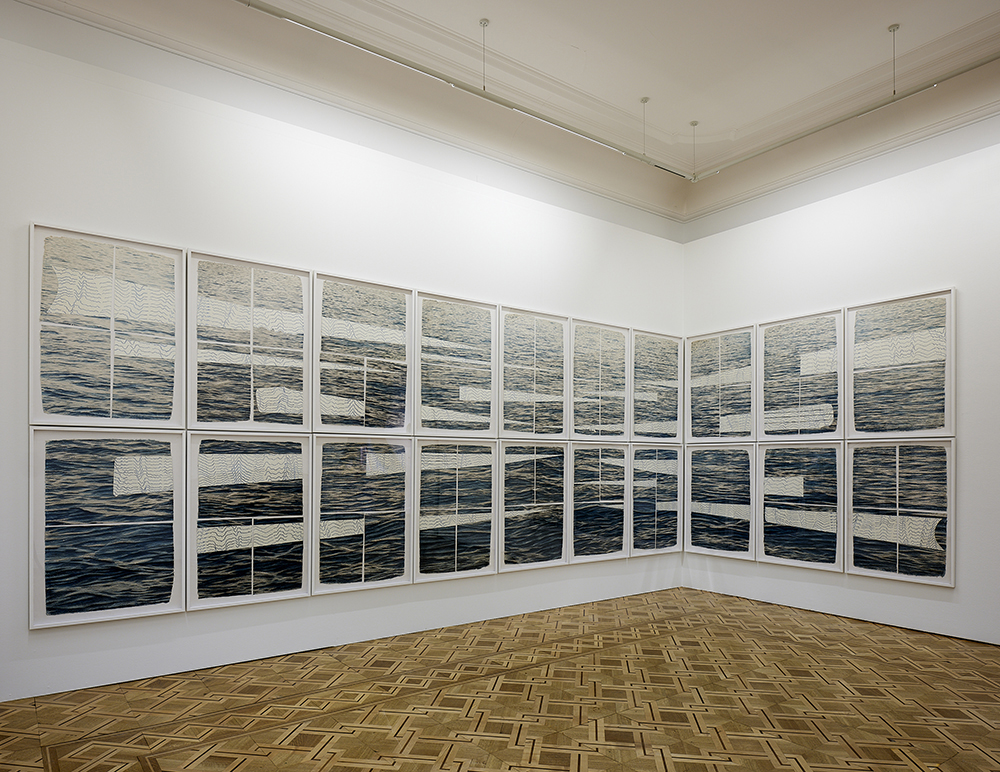 Deep Rivers Run Quiet
2021 – 2022
gouache, charcoal, and water soluble pencil on deckled edge paper and Arches paper
43 x 30 in. l  109  x 76 cm. each (pentaptych)
The meditative waterscapes in "Deep Rivers Run Quiet" originated through a process of drawing as an act of thinking. Kallat repeatedly reproduced the traced boundaries that separate nations in dispute over the shared use of their rivers. These include landscapes across the Rhine, the Nile, Jordan river or the Imjin river flowing between North and South Korea, the Rio Grande between the USA and Mexico or the Indus between India and Pakistan. Rivers don't recognize political demarcations as they traverse natural boundaries between land and water while nourishing states on either side. Their fluid nature defies rigid cartographies. The delicately fluctuating lines create a pattern that is at once organic and artificial, reminiscent of waves in a body of water or suggest the fragility of human life, recalling a pulse line as measured by a medical monitoring device. In the process, the rigid territorial boundaries and the conflicts they embody are symbolically transformed, dissolving into tranquil portraits of a body of water that is nonetheless moved by deep currents, harbouring profound meaning. The waterscape and the original line drawings appear to be interwoven in this work, interrupting and enriching one another.