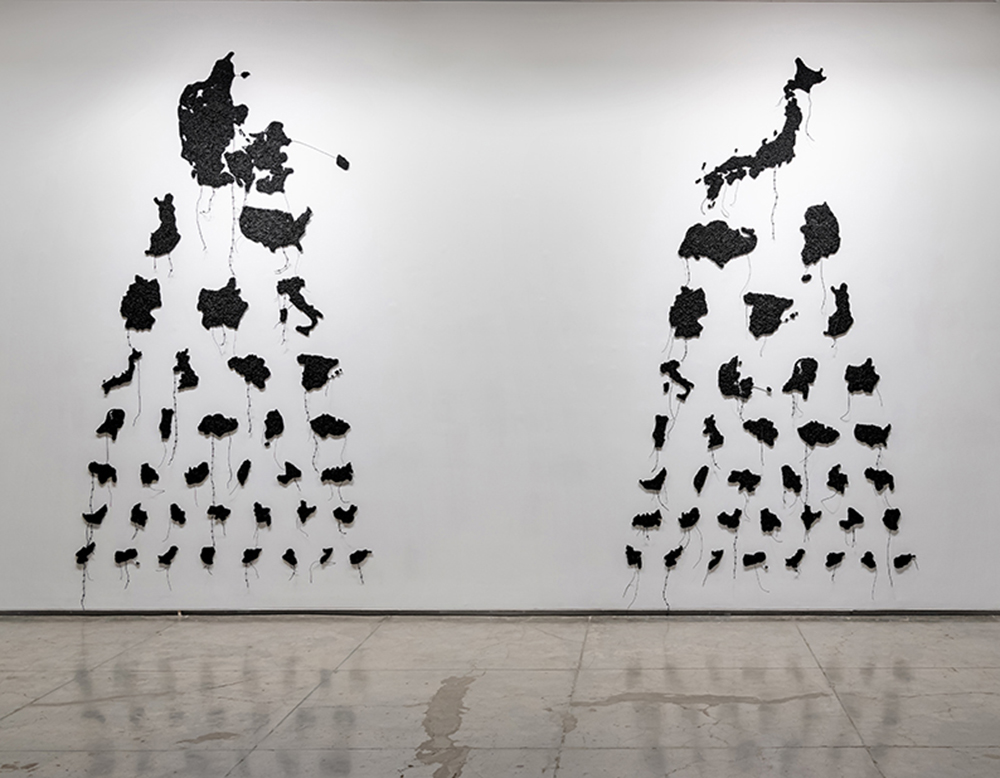 Pattern Recognition
2023
72 part work, Electric wires and metal
120 x 66 in. l  305 x 14 cm (diptych)
A passport is a portal to the world, but mobility is not equal for all. 'Pattern Recognition' draws attention to the ever-shifting, yet perpetually unequal politics of worldwide access and mobility. Appropriating the format of Snellen charts (typically used to test vision), Reena Saini Kallat presents two pyramidical representations that feature maps of different countries. The charts are based on data from Henley's Passport Index, which ranks nations on the strength of their passports, determined by the travel freedoms granted to their citizens. The chart on the left represents data from 2006, while the one on the right reflects statistics from 2023. The maps of countries with visa-free travel to more regions are larger and placed higher on the charts, while countries with more travel restrictions appear below in smaller scale.
The comparison between the two charts reveals a change in power dynamics, as maps of Denmark and other European nations previously at the top are replaced with Asian countries like Japan, Singapore and South Korea, rising in rank. However, the gap between countries with the highest and lowest mobilities remains significant in both charts, suggesting persistent global travel imbalance. While national borders appear recurrently in Kallat's practice, 'Pattern Recognition' expands the conversation to encompass privilege and policy. Despite the perception of a globally interconnected world, physical constraints and bureaucratic measures continue to reinforce inequalities and impede mobility.