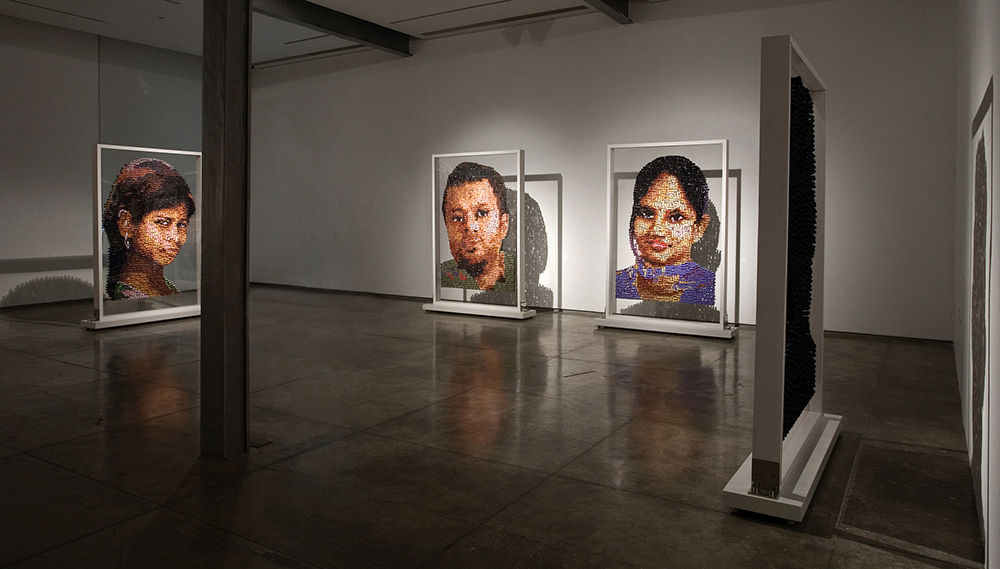 Synonym
2007-2009
78 x 57.5 x 12 in. I 198 x 146 x 30 cm
acrylic paint, rubberstamps, plexiglas
Synonym' invokes the vulnerability of the citizen in the face of a megalopolis, a state or a federation, which habitually treats them as abstract statistics or names in a record book. The works stand like screens holding up portraits formed by several hundred names of people rendered in over 14 Indian languages. From a distance they come together as portraits, but up-close their animated eyes and mouths quickly disintegrate, like pixilated images, reducing each lively feature to a circuit-board of stamps announcing a universe of names.
The rubberstamps carry names of people officially registered as having gone missing in India from different geographical zones. These are people who seem to have slipped out of the radar of human communication, thrown off the social safety net. The portrait of a sub-continental citizen is formed by numerous such names; the back of each portrait appearing like a sea of invisible identities, a bird's eye view of a large human congregation.
The quiet containment of the work, its discreet enlistment of names echoes the political logic of a democracy which operates on the framework of a 'whole composed of fractions' discourse. Metaphorically, the nation-state, much like the images in 'Synonym', is a complex portrait composed of billions of pieces of mosaic units. On paper, a democracy enfranchises every citizen, granting each of them a say and a share in electoral power. In practice however, its depth and expanse quickly consumes the individual entity, rendering them (and, in the process, their individual rights) invisible. This constant disappearance of citizens in the crevices of the intricate grooves of the bureaucratic machinery is what haunts the faces portrayed.