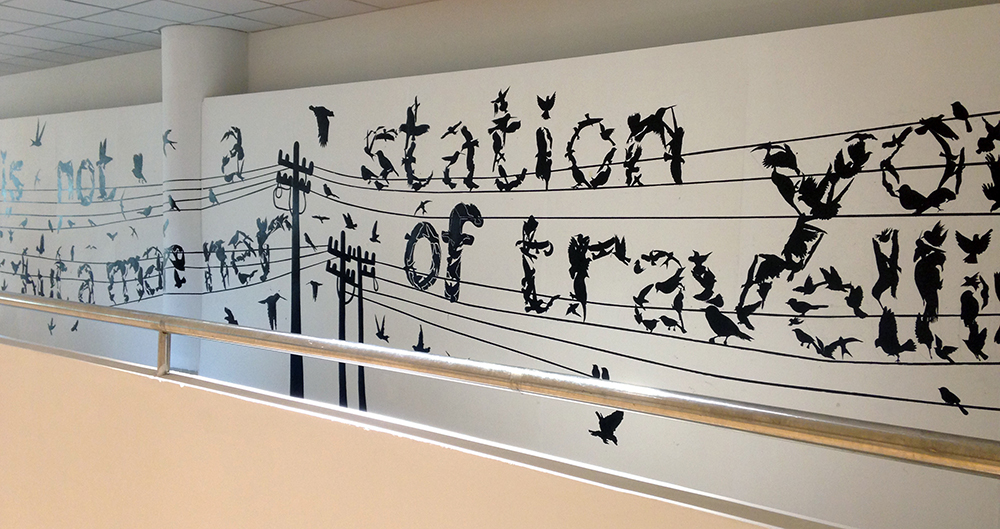 Visas To Happiness – 3
2014
painted wall murals,
mock-passports and arrival cards
552 in. x 96 in. l 1403 x 244 cm.
This interactive workshop during the Dhaka Art Summit with children was part of an ongoing project called "Visas to Happiness", under which key questions related to our notion of happiness or subjective well-being were discussed. How we view the world, our mental state of well-being depending on not just our social environment that comprises of family, friends and community but our natural environment, how our health is closely linked to the ecology, how cultural and biological diversity are essential for ensuring creative, peaceful societies and how each of us can try and re-imagine the world.Although indicators that attempt to measure quality of life in more holistic and psychological terms rather than only economic, reflect a higher happiness quotient for smaller countries due to the strong sense of community and collectivism, Bangladesh however has slipped behind in their rankings on happiness. The project was conceived with two large wall murals that were painted with birds forming the texts (in Bengali and English) on two opposite facing walls along the corridors at the Shilpakala Academy. The children were provided specially produced mock-passports and arrival cards which they creatively filled in with their understanding through personal and cultural values, animating ideas of time, geography, movement, flight and freedom.