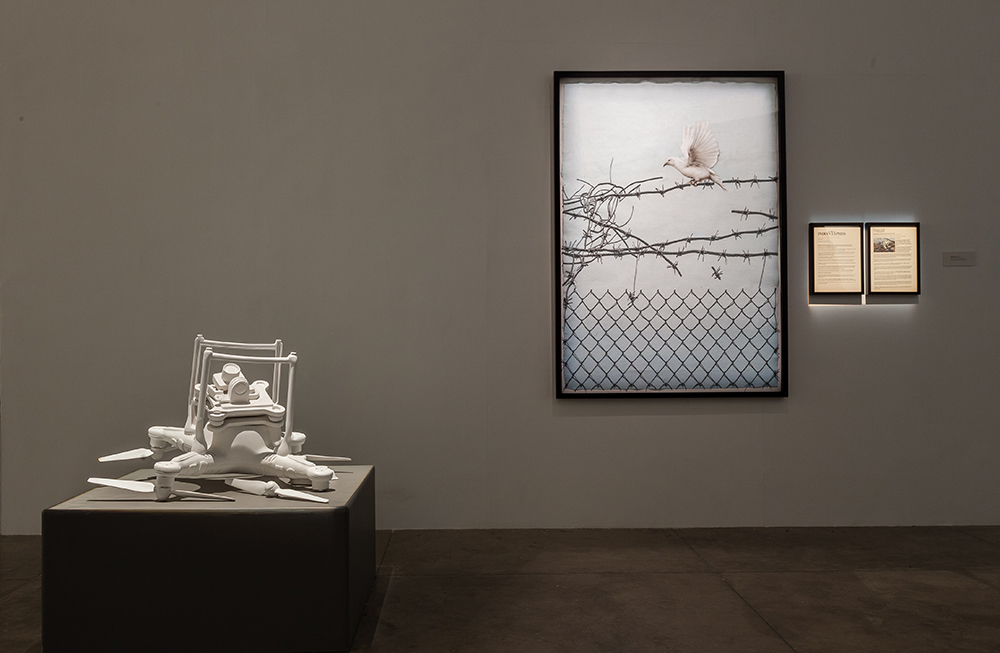 White Birds
Painting: gouache, charcoal, electric wire
on deckle – edge handmade paper
37 x 52 in. l 94 x 132 cm.
Sculpture: painted FRP
18 x 30 x 30 in. l 46 x 76 x 76 cm.
In White Birds, Reena Kallat foregrounds the paranoia that prevails around borders—whether on land, sea or air—in conflict regions. The installation, composed of a painting, sculpture and news clippings, was inspired by two events from 2015 that demonstrated how even animals and inanimate objects unwittingly fall victim to national anxieties. In the first, a pigeon was detained in coastal India on suspicion of spying for Pakistan. A few months later, a suspected Indian surveillance drone was shot down by Pakistani forces. Neither accusation could be substantiated, though both raised the threat of renewed conflict between the two nations. The painting points to the ironies of the first story—a white pigeon, the universal symbol of peace and understanding, perched over barbed wires made of electric cables; a signature motif in the artist's works that here denotes both the militarized boundary between the two countries and the paradoxical hyper-connectivity of our divided present. The sculpture, which recreates the captured drone, lies prone on its pedestal like a shot bird. Together, these elements form an absurd, tragic-comic monument to a fractured sub-continent.