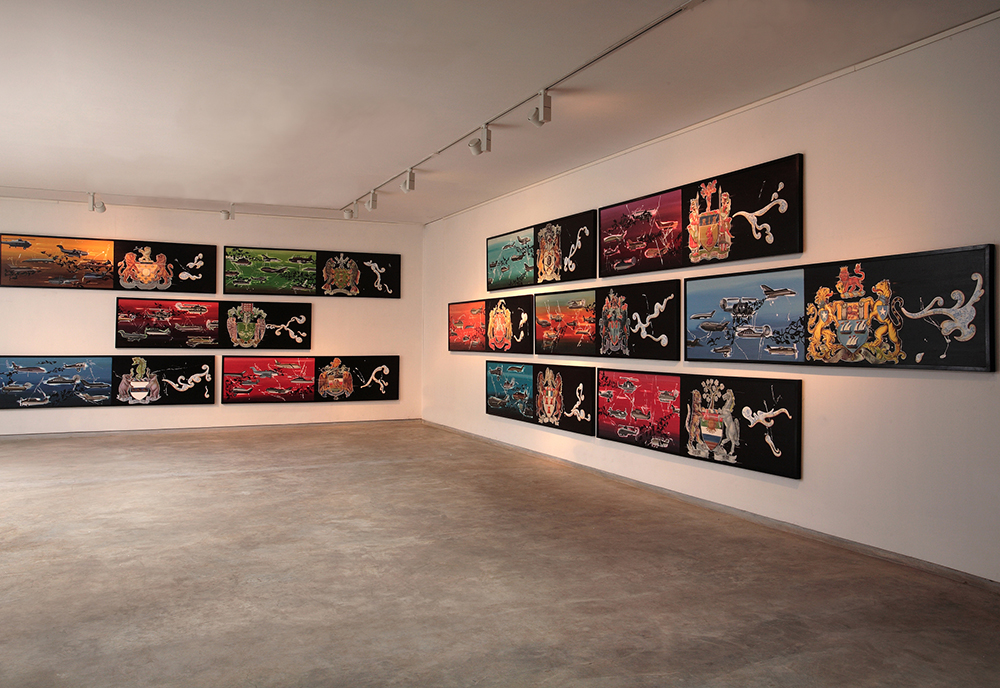 Birds of Steel
2006
oil, acrylic and carbon on canvas
20 x 80 in. I 51 x 203 cm each
Birds of Steel is a collection of 15 paintings. Each right half of the diptychs, carry heraldry emblems or the coat of arms from fifteen erstwhile princely states of the colonial era. The emblems, representing Baroda, Bhopal, Mysore, Udaipur, Jaipur, Hyderabad, Cambay, Bombay etc., interestingly utilize a combination of Hindu, Islamic and Christian iconography.
Framed, in the left half of the painting is a segment of the sky. The romantic idea associated with the skies as being boundless, limitless is here marred by the threatening image of several airplanes. The planes, whether used for administrative purposes, as passenger carriers or as fighter planes, all congest the same space ripping through scattered foliage or black sinister lightening. The elaborate heraldry symbols, seen against black backdrops, are juxtaposed with stylized spills that carry caricaturesque drawings of demons sourced from the Razmnama, the art of war.
Birds of Steel works through narratives of border disputes and invasions via the liberating image of the sky. Ironically the birds that fly here are made of steel.