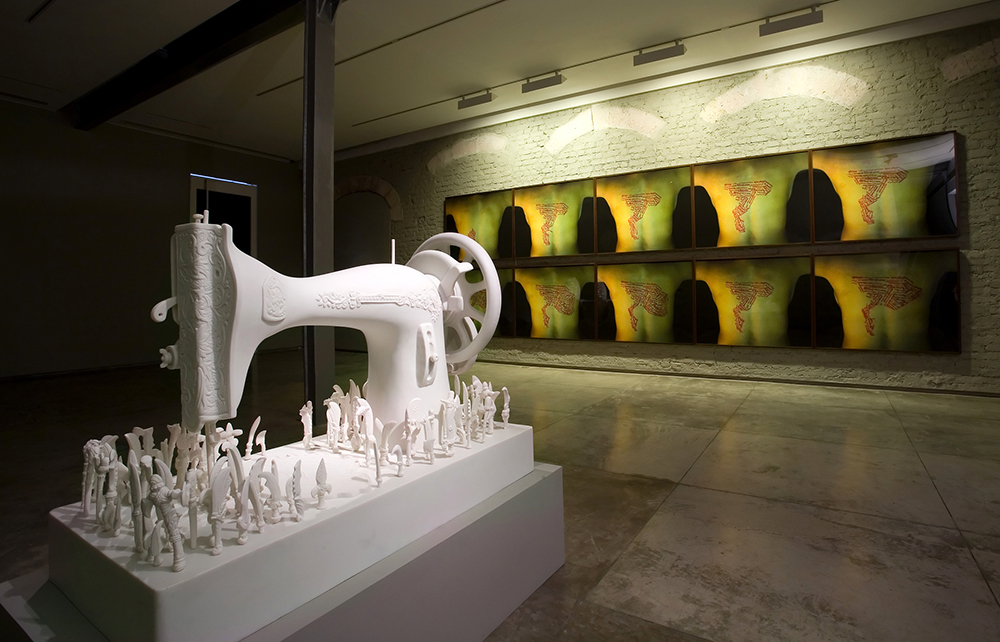 Crease Crevice Contour
2008
pigment print on Hahnemuhle Museum etching archival paper
40 x 50 in. I 101 x 127 cm each (set of 10 prints)
edition 10+AP
Crease/Crevice/Contour brings Kashmir, Kallat's other core interest, to the forefront.  This work is a series of ten photographic prints of a torso stamped to mark the changing extent of the Line of Control that marked the boundary between India and Pakistan between October 1947 and December 1948. All ten images in the series show magnified images of a naked back, stamped cleanly in red with clipped, block letters declaring names. Up-close, the torso soon is revealed as a woman's, sending an unmistakable tremor down my spine, for now the series ceases to be simply a piece of conceptual photography and becomes, effortlessly, almost a documentation. For haven't female bodies been vulnerable to the brandings of territorial claim since time immemorial?  During the Partition, it was common practice for men of other communities to first rape and then further 'violate' the bodies of women by inscribing on their skin nationalist slogans, such as 'Jai Hind' or 'Pakistan Zindabad'. The purpose of such brandings was blatant: it was an attempt at creating a memory, of declaring that this body, this woman, like a piece of land, has been claimed. The scars left by these carvings, though skin-deep, would nevertheless serve the profound purpose of reminding every man ever to see the woman unclothed that someone had outrun him, that someone had asserted his right on this 'piece of flesh' before him. The marking on a woman's body is thus curiously akin to a nation's flag.
Crease/Crevice/Contour is Kallat's ode to the women of Kashmir, who have since 1947 been both the witness to, and the victims of, the incessant struggle between Pakistan and India. The stamp marks are both a visible reminder of the torture and tribulations that have marked the lives of the people and especially the women of Kashmir, and a memento of their unwavering, incessant, inspirational struggle for freedom.