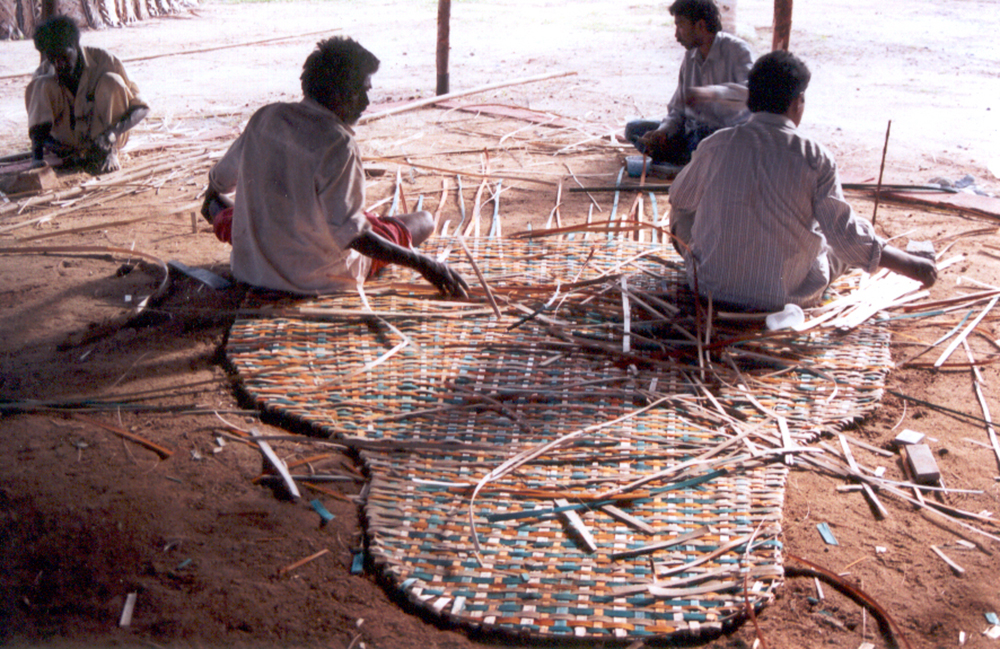 Pollen Patterns
2002
Produced with bamboo basket weavers at the Khoj International Artists Workshop, Mysore.
H.E.A.L. (Help Enjoy Amicable Living)
Workshop with the staff of Apollo Hospital, Mysore
The work conceived as part of the International Artists Workshop had two segments. One,was a floor piece titled "Pollen Patterns" made in collaboration with bamboo basket weavers. It comprised of a large mat (length 18ft woven in bamboo) in the shape of a uterus, using the colours of the Indian National flag by interlacing them. The center of the mat carried the Gandhian Charkha (spinning wheel), which used to be part of the flag in the20's but later got replaced by the Ashoka Chakra (the wheel of law).
The other, was part of an interactive outreach programme conducted at Apollo Hospital, titled H.E.A.L. (Help Enjoy Amicable Living) where vistors were invited to plait the tri-coloured strings provided, as a metaphoric gesture of their solidarity towards the peaceful co-existence of all communities. The hospital being a place for healing and recovering, was seen as the appropriate site to initiate this exercise where nurses, trainees, patients alike joined in.