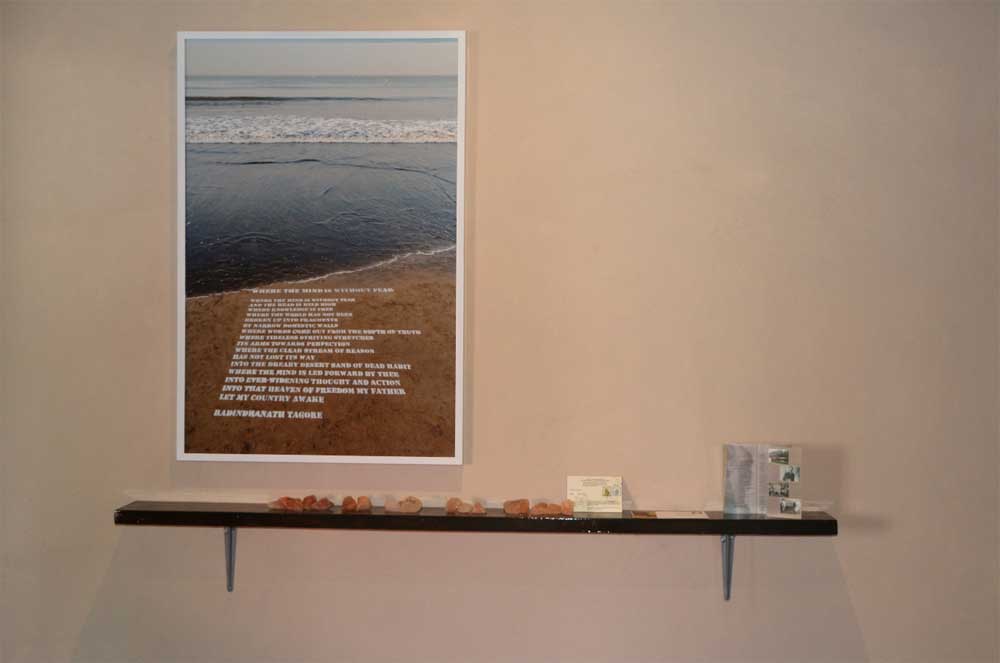 Saline Notations (fluid signs)
2016
digital print on Hahnemuhle photorag archival paper, rock salt chunks, first
covers from Colombo Postal Headquarters,
black painted MDF boards, salt, clip boards, paper
44 x 29.5 in. l 112 x 75 cm. (print) 96 x 48 in. I 244 x 122 cm. (MDF board)
Reena Kallat's installation at the Colombo Biennale is centred on the photograph of a beach inscribed with the poem 'Where the mind is without fear' by Rabindranath Tagore (1861-1941). The poem, which articulates Tagore's idea of freedom as the removal of shackles of the mind was written in sand with salt, allowing it to be slowly consumed by wind and the rising tides. In surrendering the work thus to nature, the artist creates a fragile, dissipating memory of the poem that resists memorialisation as an aesthetic mode of forgetting.
Placed alongside the photopiece are salt rock chunks engraved with the dates of Tagore's visits to Srilanka and the postage stamp with the first covers that were printed by the Srilankan government on his 150th birth anniversary.
Rabindranath Tagore, born in pre-independence Bengal, was a turn-of-the-century poet and thinker whose influence cut across the borders. He not only wrote the national anthems of India and Bangladesh but inspired his Ceylonese student Ananda Samarakoon to pen what would become the national anthem of Srilanka. Samarakoon was Tagore's student at Viswa Bharati, a university he founded in 1921. It is Viswa Bharati that inspired Wilmut Pereira to establish Sri Palee in Horana as a school for music, dance, the fine arts and allied subjects. Sri Palee was inaugurated by Tagore in 1934.
Tagore often spoke about the power of free thinking, pointing to the human mind's tendency to form habits that save it from the trouble of thinking anew. Taking a cue from this, the artist invites visitors to re-configure the words of the poem, giving it a new turn. Like a holographic poem that moves and changes as a viewer wanders through it, fluid signs in salt on blackboards placed on the floor will alter through visitor participation throughout the biennale, escaping the constancy of meaning a printed sign would have. The reader, now a collaborator of sorts, remains subject to the words themselves that endlessly reshape themselves and their environment.