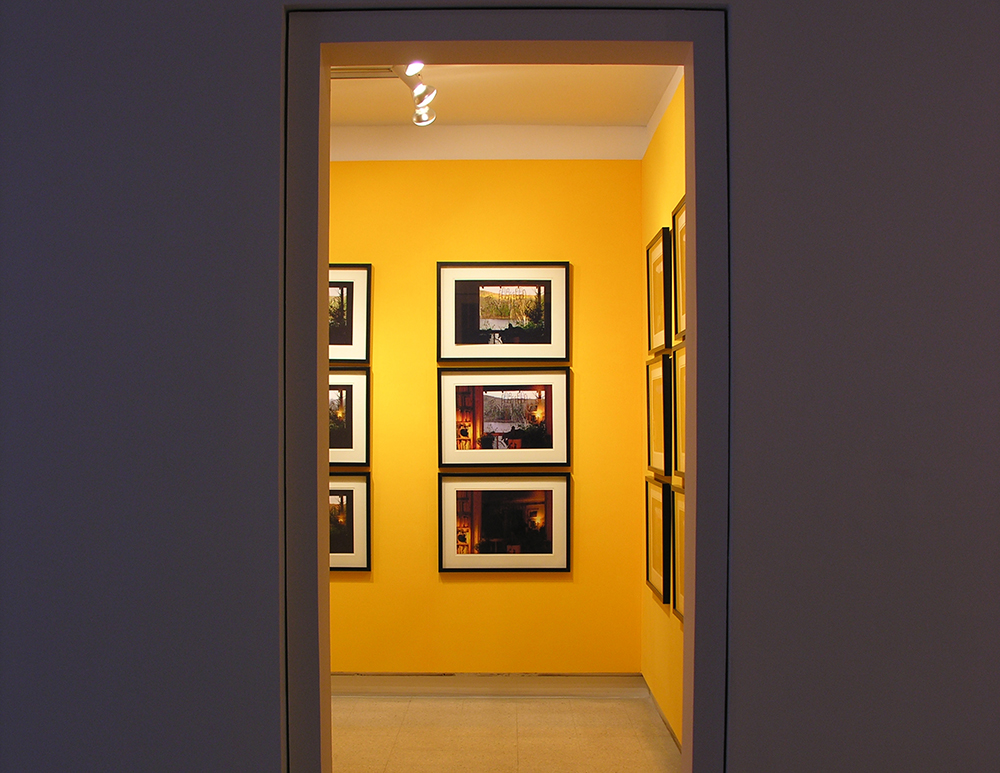 Seven Degrees of Vapour for the Vitreous Trousseau
2002
12 x 15 in. I 30 x 38 cm each (set of 21 prints)
The series of 21 photo-prints were made during a three-week residency at the Boreal Art/Nature Centre in the Laurentian mountains of Quebec, Canada, May 2002.
The Boreal mandate was the exploration of the relation of contemporary artistic practice to nature, within the context of an unadulterated natural setting. The residency was an attempt to look at the way contemporary life is getting more and more detached from the basic laws and movements of nature. It was meant to examine the divide between culture and nature and see how we draw our identity from the landscape by evoking memory and activating the imagination.
Like the 'weather-glass' that reflects atmospheric conditions, this series of photographs taken at different times of the day, is a record of the climatic changes during the period of my stay. My frame was set constant at a windowpane in the house where we stayed. What the window looked out at, was the belly of a mountain that was covered with completely dried trees. I made a drawing of my open palms with henna on the clear glass window, which to my mind was the point of juncture between the living area and the outside. The open palms then received a new drawing every alternate day from the studies I made at the greenhouse there. In all, there were seven drawings of herbs, fruit bearing, vegetable and flowering plants. All the drawings were done with the help of cones I used for pouring the henna paste. What seemed to strike me most was the acute sense of awareness of the fluctuations; from bright sunshine, to snowfall, to heavy rainfall, the transformations were sudden. This unpredictability, along with the rapid unfolding of spring, made me execute this piece.
I was interested in the notations that grew out of my personal diary/palms to bear a kind of correspondence between the garment over the mountain and the one on glass. So while the forest cover over the mountain turned green, the drawings on glass kept getting more and more fertile and full. The motifs made using henna, can be said to have been suspended between the kitch world of excess associated with popular culture- and of the social gestures that graffiti represent. By using a perishable, self-disintegrating material, the attempt is also to try and underscore the disappearance of signs of private life in public space.